Throughout Polynesia, art objects reveal a close relationship between the environment and everyday life. From everyday objects like the flywhisk to objects associated with royalty like Hawaiian feather capes, the vast majority of art pieces reflect the synergy and connection people have with the natural resources of their environment.This is especially clear in the two carved wooden objects chosen here: a moko figure, or lizard man, from Easter Island, and a canoe prow from the Maori peoples of New Zealand. In these two cultures, the human form (referred to in some locations as "tiki") is occasionally portrayed with zoomorphic qualities in order to show the close relationship they have with the environment, and also the influence it has on them. I chose these objects because throughout my life, I too have shared a very close tie with and respect for the environment. I found it interesting to see how the environment influenced the lives of New Zealanders and Easter Islanders in comparison to how it has changed my life. I found it interesting that each island has its own take on the environment, showing that, contrary to popular belief, each island has its own autonomous and different culture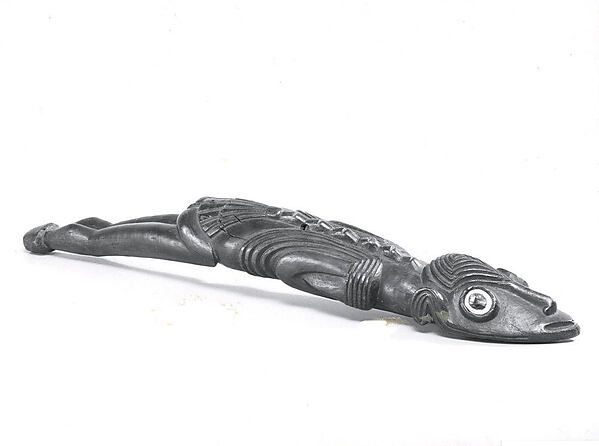 The Lizard Man Figure, known on Rapa Nui (Easter Island) as moko, is one of Easter Island's most distinct art forms combining anthromorphic and zoomorphic features. Although the moko figures share many formal similarities with the species of lizard native to the island, moko are said to depict powerful spirits (Kjellgren 2002, 65). Like in many other Polynesian islands, the ancestral tie indicates the importance placed on genealogy with regard to the Easter Island societal structure. This figure shows the head and legs of a man, while the rest of its features take on that of a lizard. In addition to having a ridged back and prominent spine, the figure's surface is carved with what appear to be scales on the rest of its body (Eggertsson 2011, 115). The eyes are inlaid with both bone and obsidian, showing a classic trait of art from Easter Island. The figure's pronounced ribs, prominent spine, and thin appearance recognize the fact that Easter Island went through a period of deforestation, which lead to starvation, death, and population decline (Beighton 1966, 350). The intricate carvings on the moko were most likely made possible by steel tools made available by missionaries temporarily residing on the island, assuming they were carved after the arrival of missionaries. This object's curved form is most likely a feature of the tree it was taken from, the artist using the natural form of the root or branch from which the piece of wood was taken. These objects were used in many ceremonial practices. For example when a new house was constructed, two lizardmen sculptures were placed on either side of the door (Kjellgren 2001, 55). Thus through examining this piece of art, we can see the classic Easter Island style of art (inlaid eyes), evidence of western contact (detailed carving in rib and spine), and most importantly, the tie to the environment (ceremonial use, strategic use of the natural bend of wood, and again, references to food scarcity because of depleting resources).
The next object, a canoe prow from New Zealand, is a common art form of the native Maori population that inhabits this area. Maori art has many recognizable traits, many of which can be found on this piece of art. The canoe prow shows symmetrical form, and is not freestanding as it is attached to the tip of a canoe. This canoe prow was most likely from a war canoe because it takes on the human form, and because of how it is not freestanding and is connected to the bow (Archey 1956, 366). Additionally, there are many koru, or swirls that represent a rolled up leaf. This symbol has become synonymous with New Zealand, and reflects the importance of the environment in New Zealand society. This prow also exemplifies perfectly the tiki manaia form, which shows a human form with birdlike features. Connecting to the moko above, the tiki manaia represents the Maoris' connection to the environment. Tiki manaia features clawed hands, a v-shaped brow, round eyes with shell inlayed, and a figureeight shaped mouth, all of which can be seen in this canoe prow (Archey 1967, 241). In this piece, the body is made of wood, and the eyes are inlaid with abalone shell. Gilbert Archey, an expert on Maori art, states that the tiki manaia form is an anthromorph, which combines human and animal features. Archey continues to say that this transformation was a natural progression in Maori art, for example: the elongation of the face in the beak-like form was introduced because carvers felt the need to fill the space between the side of the face and the edge of the slab, which caused them to even further elongate the already conventionalized beak (Archey 1933, 174). The combination of the human and animal forms further indicate the synergy they share with the environment. Maori peoples are said to have an "intricate, holistic, and interconnected relationship" with the natural world and the environment around them (Harmsworth 2013, 274).
Thus this tie to nature is an overarching theme that is found in New Zealand and across other islands, like Easter Island, and many other parts of Polynesia. These environmentally synergistic figures of Easter Island and New Zealand reflect that each society has their own interpretations of the environment, and each has different influences from the outside world. However, despite colonization, each society remained strong with their relationships to the natural world.
Bibliography
Archey, Gilbert. "Maori Wood Sculpture: The Human Head and Face." Records of the Auckland Institute and Museum 6, no. 3 (1967): 229-50. http://www.jstor.org/stable/42906127.
Archey, Gilbert. "Evolution of Certain Maori Carving Patterns." The Journal of the Polynesian Society 42, no. 3 (September 1933): 171-90. http://www.jstor.org/stable/20702498.
Archey, Gilbert. "Tauihu: The Maori Canoe Prow." Records of the Auckland Institute and Museum 4, no. 6 (October 1956): 365-79. http://www.jstor.org/stable/42906476. Beighton, Peter. "Easter Island People." The Geographical Journal 132, no. 3 (September 1966): 347-57. http://www.jstor.org/stable/1793876.
Best,Elsdon. "Maori Personifications. Anthropogeny, Solar Myths and Phallic Symbolism: As Exemplified in the Demiurgic Concepts of Tane and Tiki." The Journal of the Polynesian Society 32, no. 2 (June 1923): 53-69.
"Canoe Prow." Photograph. Joan & George Anderman Gallery of Oceanic Art. From the Denver Art Museum. http://denverartmuseum.org/collections/oceanic-art.
Eggertsson, Sveinn. "Human Figures in Rapanui Woodcarving." The Journal of the Polynesian Society 120, no. 2 (June 2011): 113-28. http://www.jstor.org/stable/23041464.
Gunn, Michael. "Lizard Man (moai Tangata Moko)." Metropolitan Museum of Art Bulletin 54 (Fall 1996): 73.
Hemsworth, Garth. "Indigenous Maori Knowledge and Perspectives of Ecosystems." Ecosystem Services in New Zealand – Conditions and Trends, 2013, 274-86.
Kjellren, Eric, JoAnn VanTilburg, and Adrian Lois Kaeppler. Splendid Isolation: Art of Easter Island. New York: Metropolitan Museum of Art, 2001.
Kjellren, Eric. "Moai Miro: Wood Sculpture of Rapa Nui." World of Tribal Arts 7, no. 2 (Winter 2002): 62-73.
"Lizard Man Figure." Photograph. The Michael C. Rockefeller Memoriam Collection. From The Metropolitan Museum of Art. http://www.metmuseum.org/art/collection/search/311295
Orliac, Cathrine. "Botanical Identification of 200 Easter Island Wood Carvings." French National Centre for Scientific Research, August 2007, 125-40.