In this summary, I compare and contrast two different wooden bowls used in yaqona/kava ceremonies using the themes of tourism and the environment to reflect change in Polynesian societies in the 19th century. The first people inhabited the islands of Polynesia hundreds of years ago via single-outrigger canoes and strategic navigation.These people brought with them a respect for the natural environment and a love for the sea. They took this love and created objects that depicted landscapes, animals, and symbols, like this bowl representing the shape of a sea turtle. Through objects, which often serve important functions in social rituals and ceremonies, the people of Polynesia bring to light their cultural belief that the sea will look out for them if they are proper stewards to the land they inhabit. I experienced this cultural belief first-hand when I participated in a kava ceremony in a small village in Fiji.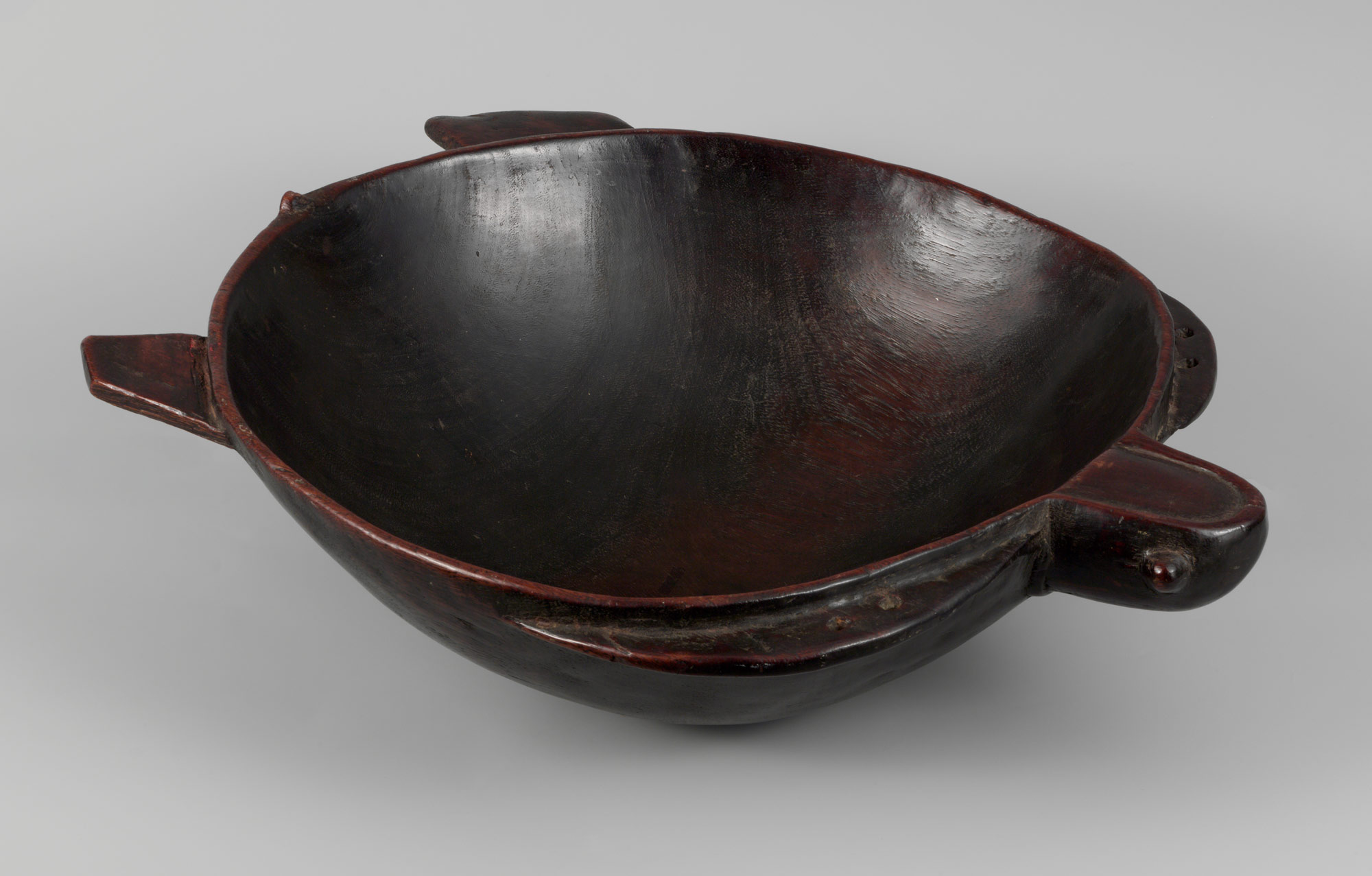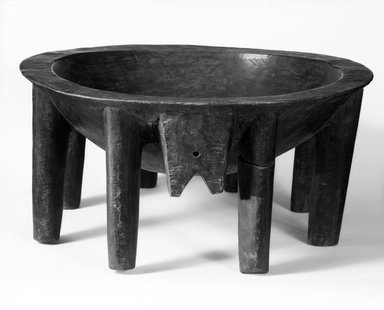 Kava, called yaqona in Fiji, is a mildly narcotic root that is ground up and then drank for ceremonial purposes (Brison 2001, 309). The people of Fiji and Samoa participate in Kava ceremonies, which are central to their culture and encourage sociality within the community, especially in modern times where it has become a daily practice. Sevusevu, the ceremonial presentation of kava in Fiji, is also said to assert a sacred and inviolable connection between people and the land (Brison 2001, 319). Both dishes shown above are used as serving dishes during the ceremonies. Centuries ago, inspiration dishes, like those featured in the Metropolitan Museum's collection, played an additional important function by enhancing the status of the people who drank from them. Now, with the influx of tourists participating in kava ceremonies and the prevalence of kava drinking in everyday life, hulled-out coconut shells have replaced elaborate dishes like these (Tomlinson 2004, 658). Looking first at the carved wooden turtle form bowl, one sees that it reveals a surface patina, probably resulting from constant use and the possible passing down of the object from generation to generation. It is said that holding kava in the dish for extended periods of time also has an effect on the glossiness of the object (Boissonnas 2014, 358). The turtle form depicts a streamlined shape with its front flippers tucked in close to its body to help it glide effortlessly through the water. This turtle form wasn't depicted in earlier kava bowls but began to appear in the early 19th century, probably as a result of European contact (Krämer 1995, 372). On the upper flippers, there are perforations in the wood, indicating that these turtle bowls were possibly hung from something or suspended with string. Because these bowls were used to communicate with ancestor spirits and gods, they required circumspect and respectful treatment and storage to avoid dust and soot (Krämer 1995, 372). Four-legged turtle bowls were a phenomena developed later in the 19th century, so one can speculate that this flat bowl was created before the time of legged yaqona bowls and used for mixing the kava because of its larger size. However, as tourism began to increase in the 20th century, turtle-shaped bowls became increasingly popular and today, we see smaller sized bowls being made for sale to tourists (Krämer 1995, 372).
In contrast with the turtle form bowl, this eight-legged awa (kava) bowl was created sometime in the late 19th century when legged kava bowls became more popular. It is said that these many-legged bowls came to be used for actual kava consumption by Samoans and replaced the older four-legged, or no legged, bowls (Krämer 1995, 359). The additional legs were the result of demand from the growing tourism industry in Samoa. More legs were constructed on the bowls so native people could increase the price for tourists. This generally equated to bowls being larger, as seen above (Buck 1930, 147). Formally, this Samoan kava bowl has what looks like a pointed V-shaped lug, an ear-shaped projection on the edge of a dish, with similar perforations for suspension purposes. The thickness of the rim of the bowl is a defining feature of Samoan kava bowls that contrasts with Fijian bowls of the same time period (Boissonnas 2014, 358). This style was introduced under Tui Nayau, the Rokosau of Lau and was seen beginning in the 1700s (Boissonnas 2014, 376). The lack of glossy finish and worn look as well as apparent abrasions on the awa bowl indicate that it may be old in age or that it was laid on the ground rather than hung up. We also see that the legs are tapered rather than being fully rounded. This style is seen across Fiji and Samoa, so it does not give us any insight into the stylistic differences between artists from these areas.
Today, the use of kava/yaqona/awa remains an integral part of Fijian and Samoan society. This drink is consumed not only during chiefly rituals and ceremonies but also on more informal social occasions (Chanwai 2000, 143). These ceremonies bring together people and stress the importance of sociality within these societies and show how pieces of art, like these two bowls, have the ability to bring people together. However, these two pieces also represent the changing social practices and the commercialization of sacred rituals that result from an ever-growing tourist industry.
Bibliography
Awa Bowl. Sculpture. From The Brooklyn Museum. https://www.brooklynmuseum.org/opencollection/objects/15962/Awa_Bowl
Boissonnas, Valentin. "Beyond the Rim: A Comparative Study of Kava Bowls". Journal of the Polynesian Society 123, no. 4 (2014): 357-382.
Brison, Karen J. "Constructing Identity Through Ceremonial Language in Rural Fiji". Ethnology 40, no. 4 (2001): 309–27.
Buck, P.H., [Te Rangi Hiroa]. "Samoan Material Culture". Bernice P. Bishop Museum Bulletin 75, (1930). 147-150.
Chanwai, L. G. "Kava toxicity". Emergency Medicine, 12 (2000): 142–145. Kjellgren, K. "Vorwort". Acta Psychiatrica Scandinavica, 19, no.29 (1944): 7–8.
Krämer, Augustin. The Samoa Islands: Material Culture. Hawaii: The University of Hawai'i Press, first ed.1995.
Tomlinson, M. "Perpetual Lament: Kava-Drinking, Christianity And Sensations Of Historical Decline In Fiji". Journal of the Royal Anthropological Institute 10 (2004): 653–673.
Turtle-Shaped Bowl (Darivonu). Sculpture. From The Metropolitan Museum of Art. http://www.metmuseum.org/toah/works-of-art/1979.206.1579/