Barkcloth figures from Rapa Nui are rare. One of these is a humanoid figure that unlike many other Polynesian sculptural forms (tikis), is seated with its knees bent in front of the body and arms are lifted and pointed outward as well (Kaeppler 2003, 17). This figure's features are from humans and animals.First, the head appears to incorporate features of a human and a bird. It has eyes, ears and a mouth with teeth that resemble a human; however, it has a large nose which could also represent a hooked beak. Its hands resemble claws which may allude to the theme of a Birdman cult. (Kaeppler 2003, 17). This cult was most likely present before European contact and it is still debated when it officially emerged. Much is still not known about it, but it is presumed to be an alternative faith or form of worship after previous methods failed as Rapa Nuians suffered from war, famine and deforestation (Forment and Valladas 2001, 530). This barkcloth figure was most likely obtained through trade during one of Cook's voyages to the island but the exact year it was created is unknown (Kaeppler 2003, 17). This object is made of a wooden frame around which the barkcloth was wrapped. Paint was used for the tattooing detail. Tattoos depicted on the neck are said to represent tattoos typical of Rapa Nui (D'Alleva 1998, 103). The use of barkcloth is significant because it was a very rare item on Rapa Nui. Barkcloth was a common material in many Polynesian islands. This figure also indicates that there was a social hierarchy that was strongly connected to religion in the form of the Birdman cult (Kaeppler 2003, 17).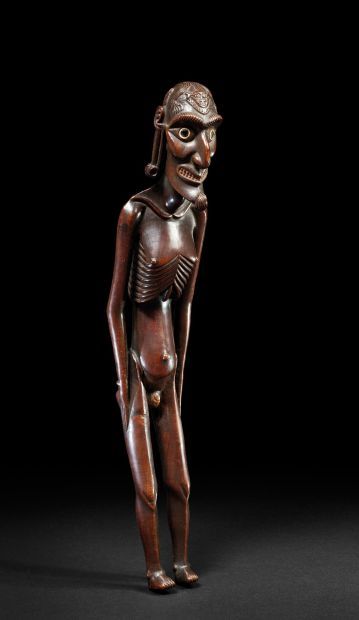 The second figure is known as a Moai Kavakava and is representative of a male ancestor. The figure represents the human form, with slightly bent knees and arms resting on the hips (Newton et al. 1984, 63). However, the features of this figure greatly differ from that of other Polynesian figures. Firstly, it has elongated limbs rather than the typical stout features seen in sculptures from Hawaii and the Austral Islands (D'Alleva 1998, 99). It also has an exposed rib cage, collar bone, and protruding cheek bones, suggesting that this figure was suffering from starvation. (Pollard et al.2010, 564). These features may allude to the history and environmental predicaments experienced by the Rapa Nuian people. Why this suffering occurred is a debated topic (Luomala 1973, 30). However, due to recent dating and comparisons of this and other figures, it was believed to be made before European contact. Therefore, this cataclysmic event which greatly affected the Rapa Nuian people most likely occurred pre European contact (Forment and Valladas 2001, 530). Although this Moai Kavakava takes the form of a human, its elongated limbs and curved and enlarged nose may also allude to the Birdman cult. The figure is carved out of wood and eyes are inlaid with obsidian. The figure's hunched over posture may be a result of the artist incorporating the wood's natural bend. Lastly, the back of the figure has exposed vertebrae. This is said to potentially represent genealogy a theme which is present in much of Polynesian art (Heyerdahl 1979, 10). This Moai Kavakava's appearance connects with suffering and the birdman cult, but it still emulates the common motifs that are present in art across Polynesia.
Although these objects are made of different materials, they share many similarities, especially in their symbolism which refers to the devastation of Rapa Nui. The symbolism behind these two objects both make references to the Birdman cult, which in turn also means these pieces both allude to the suffering of the Rapa Nuian people either due to warfare, starvation, deforestation, or a combination of them all. (Hunt 2006, 412). There is still much mystery behind this cult and the reasons for its following, but based on these two different figures a connection can be seen between the two. That is why I chose these two objects. There is a connection between the historical and cultural mystery of the Island and the art. That is shown in the uniqueness of these figures compared to other Polynesian tikis. They are representative of the vastness of Polynesian culture, and how histories and cultures may be altered because they are constructed through inferences rather than established fact.
Bibliography
Barkcloth figure. Photograph. Photograph from Peabody Museum of Archeology and Ethnography. https://www.peabody.harvard.edu/node/2064
D'Alleva, Anne. Arts of the Pacific Islands. New Haven, CT: Yale University Press, 1998.
Forment, F., D. Huyge, and H. Valladas. "age determinations of Rapanui (Easter Island) wood sculpture: Moai Kavakava ET 48.63 from Brussels." RES: Antiquity 75, no. 289 (2001): 529.
"Front Matter". "Front Matter." RES: Anthropology and Aesthetics, no. 44 (2003). [President and Fellows of Harvard College, Peabody Museum of Archaeology and Ethnology].
Heyerdahl, Thor. "The Heterogeneity of Small Sculptures on Easter Island Before 1886." Asian Perspectives 22 (1). University of Hawai'i Press. (1979): 9–31.
Hunt, Terry L."Rethinking the Fall of Easter Island: New Evidence Points to an Alternative Explanation for a Civilization's Collapse." American Scientist 94 (5). Sigma Xi, The Scientific Research Society. (2006): 412–19.
Kaeppler, Adrienne L. "Sculptures of Barkcloth and Wood from Rapa Nui: Symbolic Continuities and Polynesian Affinities." RES: Anthropology and Aesthetics, no. 44. [President and Fellows of Harvard College, Peabody Museum of Archaeology and Ethnology]. (2003): 10–69.
Lipo, Carl P., and Terry L. Hunt. "A.D. 1680 and Rapa Nui Prehistory." Asian Perspectives 48 (2). University of Hawai'i Press. (2009): 309–17.
Luomala, Katharine. "Moving and Movable Images in Easter Island Custom and Myth." The Journal of the Polynesian Society 82 (1). Polynesian Society. (1973): 28–46.
Moai Kavakava Figure. Royal Museum of Art and History, Brussels. http://www.stltoday.com/news/multimedia/atuasacred-gods-frompolynesia/image e14ccfda-5ec4-543d-b2d0-90eea8ab4091.html
Newton, Douglas, Julie Jones, and Kate Ezra. "Primitive Art". Notable Acquisitions (metropolitan Museum of Art), no. 1984/1985. The Metropolitan Museum of Art. (1984): 62–63.
Pollard, Joshua, Alistair Paterson, and Kate Welham. "Te Miro o'one: the archaeology of contact on Rapa Nui (Easter Island)." RES: World Archaeology 42, no. 4. (2010): 562-580.