This summary compares and contrasts two art objects from Polynesia: one is a Siapo (barkcloth) panel from Samoa; and the other is a Tahi'i (fan) from the Marquesas Islands. I chose these objects because I was interested in clothing and the relationship garments have with identity, status, and power relations. I chose these objects because they are two artifacts associated with Polynesian women.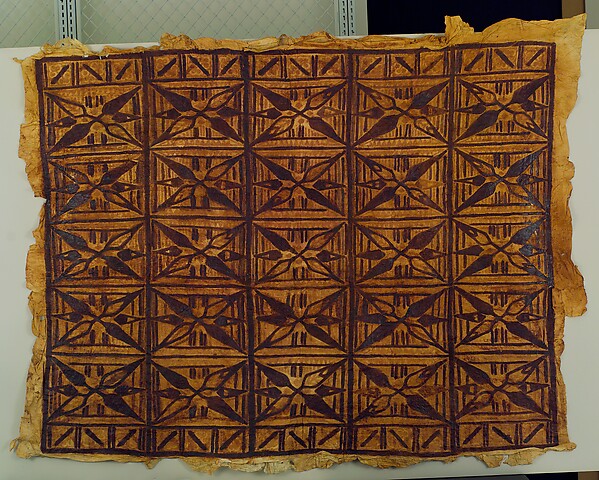 Tapa is known as barkcloth because it is made from the bark of the Mulberry tree. Authors Young Leslie and Addo identify barkcloth as a protective material (2007, 19). Barkcloth is said to be used as a material to wrap and cover things with significant meaning. Over time, barkcloth has become the object associated with Polynesian culture that has maintained its heritage and embraced cultural transformation. Barkcloth sits on the invisible line of the past and present.
Barkcloth is made in a variety of shapes and forms. Tapa is typically made by women. It is a paper-like textile. It is made solely from the inner-most soft areas of the mulberry tree. After the material is pounded, it is binded together to create large sheets. Prior to Western contact, barkcloth was the only form of cloth in Polynesia. Due to its demand in many aspects of Polynesian life, barkcloths are produced in numerous sizes and forms. Barkcloth's usage ranges from garments, to the wrapping of sacred objects, to enormous ritual textiles during meaningful life events, such as marriages or funerals. As a result of its customer base and specialization to Samoa, tapa is also traded as a means to gain a source of income from neighbors. The barkcloth gives a special contribution to the people, culture, and history of Samoa.
It is indicated that women are often times the ones doing the soft material weaving and crafts. Women make the barkcloth as well as the fans. These objects indicate that their creator has a great deal of patience, time, skill and craftsmanship (Herda 1999, 152). The women of Tonga host parties where they come together to work. This creates a structure where the women of Tonga can be both efficient in their labor, yet sociable at the same time. The fans show very meticulous craftsmanship. Firstly, the fan is made of multiple materials including pandanus fiber, whale ivory, human teeth, and pigment. These materials make the process very significant in relationship to the amount of mana, or energy put into the piece.
These objects relate to families and societies because in Polynesian culture there is a focus and priority on family structure and lineage. The objects that are usually wrapped in the tapa are those in which were deemed meaningful by a higher ranking individual. These objects were usually one that had been passed down throughout generations. The tapa and the fan both illuminate an essence of family, community, and pride of the culture. Each object has a use in society. It is a product that can be utilized for consumption. This is significant because in the Samoan culture if you can track your genealogy and lineage, you are in touch with your ancestors, which is important.
The fan relates to the world of unseen forces because as a result of its carvings and engravings one can see how much mana was incorporated. The level of detail in and of itself reinforces the lineage associated with this piece. The tapa exhibits a great amount of unseen force. All of the engravings, carving, weaving and intricate detail that goes into any of the art work is a means to connect with the natural and spiritual world. The rituals, dances, worships, and praises all indicate and acknowledge the spiritual ancestry.
I also wanted to learn more about what garments, accessories, and related objects were associated with identity and social status. Comparing and contrasting the objects illuminate their qualities because it makes me more aware of how each garment is significant for a specific person in the culture. This module has helped me come to a better understanding of Polynesian art objects. Both are important to the culture and the social status of both men and women. As people endure life-changing events in their lives they at some point will come into contact with the tapa. Showing the intense labor women put in to support those in positions of power are ways the women of Samoa participate in civilization, economy, and culture. Although it is not as obvious, Polynesian islands are engaging in capitalism and globalization at an alarming rate. This is alarming because Polynesians are trying to engage in globalization and modernity while simultaneously trying to preserve tradition, culture, and authenticity while advancing financially.
Bibliography
Cote, J.,E. "A Social History of Youth in Samoa. Religion, Capitalism, and Cultural Disenfranchisement." International Journal of Comparative Sociology 38, no. 3 (1997): 217.
Franklin, Marianne I. "I define my own identity: Pacific articulations of 'race' and 'culture' on the internet." Ethnicities 3, no. 4 (2003): 465-90.
Herda, Phyllis S. "The Changing Texture of Textiles in Tonga." The Journal of the Polynesian Society 108, no. 2 (1999): 149–67.
James, K. E. "The Female Presence in Heavenly Places: Myth and Sovereignty in Tonga." Oceania 61, no. 4 (1991). [Wiley, Oceania Publications, University of Sydney]: 287– 308.
Leslie, Heather E. Young, and Ping-Ann Addo. "Introduction: Pacific Textiles, Pacific Cultures: Hybridity and Pragmatic Creativity". Pacific Arts 3/5. Pacific Arts Association: (2007): 12–21.
Marquesas Islands Fan. Photograph from Indiana University Museum of Art, Arts of Africa, Oceania, and the Americas. http://www.iub.edu/~iuam/online_modules/wielgus/polynesia/polynesia38.html.
Moffat, Kirstine. "New zealand." The Journal of Commonwealth Literature 44, no. 4 (2007): 139.
Neich, Roger. "Tongan Figures: From Goddesses to Missionary Trophies to Masterpieces." The Journal of the Polynesian Society 116, no 2 (2007): 213–68.
Renshaw, Jean R. "Women in Management in the Pacific Islands: Exploring Pacific Stereotypes". International Studies of Management & Organization 16, no. 3-4 (1986): Taylor & Francis, Ltd: 152–73.
Samoa Barkcloth. Photograph. From The Metropolitan Museum of Art. http://www.metmuseum.org/art/collection/search/312122.
Sharrad, Paul. "'Tapa' and Text: Hybrid Technologies and Pacific (re)possession". Pacific Arts 3/5 (2007): Pacific Arts Association: 128–38.
Simanu-Klutz, Luafata. "On Being Samoan, on Being Woman (E Au Pea Le Ina'ilau a Tama'ita'i)". Frontiers: A Journal of Women Studies 23, no. 2 (2007). University of Nebraska Press: 19–21.
Teilhet-Fisk, Jehanne. "Clothes in Tradition: The 'Ta'ovala' and 'Kiekie' as Social Text and Aesthetic Markers of Custom and Identity in Contemporary Tongan Society Part II." Pacific Arts, no. 6 (1992): 40-65.