The Skull Rack was a figure from the Kerewa people who reside on the island of New Guinea. It represented an important part of their culture. The object was associated with headhunting, which was practiced by the Kerewa and other surrounding groups along the Sepik River. Multiple skulls would have been attached via prongs coming out of the figures' lower torso. Making and owning these figures represented a rite of passage. Only warriors who obtained a head through battle or a headhunting raid were able to carve this type of object. Along with this aspect, there were ties to ancestors and fertility. The sculpture itself was said to be taking the position of a woman giving birth, which was also known as a presentation pose (Lewis-Harris 1996, 6). The attached skulls represent newly born children, whereas the prongs that attach them to the figure represent umbilical cords (Lewis-Harris 1996, 6). When the male incorporated a skull it would transfer the spirit of the victim and renew fertility and power of the clan the male was a part of (Lewis-Harris 1996, 6). Along with the connection to a clan, it also showed the connection the Melanesian people had with the human life cycle. They valued all aspects of the life cycle, from conception and birth, to illness and death (Jose 2009, 59). Therefore, this figure was ultimately representative of strengthening the cult-oriented and male-dominated culture, while also showing the importance of the cycle of life.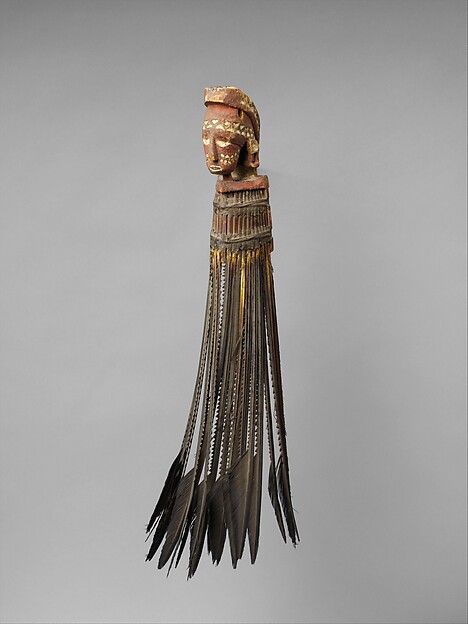 The second figure was a neck ornament that was used as a war charm for male warriors on the Admiralty Islands. This figure would have been tied around the neck of the warrior using a type of cord. This would have allowed the ornament to rest on the back of the neck or the back of the warrior. The head itself would have faced backwards as almost if it were to protect the blindside or back of the warrior (Indiana University Art Museum 2002). The head alluded to the ritual of headhunting, but also to a warlike culture among the islands of Melanesia. Unlike many other Melanesian objects which were owned collectively by the male secret societies, this object was quite unique in the sense that it was personal to the warrior (Grabski April 5, 2016). The charm also alluded to a greater belief in a spiritual force that would have guided the warriors through battle. Warriors believed the charm would improve the aim of the warrior when using a spear. Along with this improved skill it was also believed to help make the warrior invulnerable during combat (Museum of New Zealand Te Papa Tongarewa 1992). One stylistic note is that the glass beads located on the frigate bird feathers were unique material to these Melanesian Islands. Not much of the art work of this era and region were seen with similar beads. This meant that there was outside influence on art by European contact (Indiana University Art Museum, 2002). This war charm was important in representing the culture of the Admiralty Islands surrounding warlike rituals and what influences played into its appearance and function.
I chose these objects because they both were representative of multiple themes that encompassed Melanesia despite the diverse cultures and groups who resided on the many islands. They were unique in the sense that neither of the objects were collectively owned by the community, which many of the other objects in Melanesia were (Grabski April 12, 2016). On the surface these pieces represented headhunting, warfare, and masculinity, which were integral parts of culture on the island (Andaya 2004, 25). However, there was also a unique difference in both objects that is interesting. They represented an individual aspect to the secret society culture and hierarchy, which was prominent in Melanesia. Both objects related to some sort of right of passages. The Skull Rack could only be constructed when the male took his first skull whereas the War Charm was representative of a male becoming a warrior. The individualistic symbolism in each sets them apart from other works of art. This deviation from a collective culture displayed a focus on masculinity both in the cases of war and headhunting, but also in secret societies and the initiation males had to go through in order to obtain the status of being a "man." There was a prominent male culture, but there were individual aspects in empowering the warrior which in turn played into the collective unity of the clans. They showed not only a closely connected region in regards to culture and trade, but also they gave an in-depth look into how each of these societies worked both from within, but also in the grander scope of New Guinea and Melanesia as a whole.
Bibliography
Andaya, Barbara Watson. 2004. "History, Headhunting and Gender in Monsoon Asia: Comparative and Longitudinal Views". South East Asia Research 12 (1). IP Publishing Ltd: 13–52. http://0-www.jstor.org.dewey2.library.denison.edu/stable/23750286.
Grabski, Joanna. "Arts of Oceania Lecture on Melanesia: Admiralty Islands and New Britain." (Class Lecture, Denison University, Granville, Ohio 5 April, 2016).
Grabski, Joanna. "Arts of Oceania Lecture on New Guinea." (Class Lecture, Denison University, Granville, Ohio 12 April, 2016).
Jose, Orathinkal. 2009. "Human Body in Melanesian Context." Contemporary PNG Studies 11: 53-72. Academic Search Complete, EBSCOhost.
Lewis-Harris, Jacquelyn. 1996. "Art of the Papuan Gulf". Bulletin (St. Louis Art Museum) 22 (1). St. Louis Art Museum: 1–35. http://www.jstor.org/stable/40716180.
"Melanesia: Admiralty Islands: War Charm." Indiana University Art Museum. 2002. http://www.iub.edu/~iuam/online modules/wielgus/melanesia/melanesia54.html.
Pannell, Sandra. 1992. "Travelling to Other Worlds: Narratives of Headhunting, Appropriation and the Other in the 'eastern Archipelago'". Oceania 62 (3). [Wiley, Oceania Publications, University of Sydney]: 162–78. http://0- www.jstor.org.dewey2.library.denison.edu/stable/40332486.
Sillitoe, Paul. 1978. "Big Men and War in New Guinea". Man 13 (2). [Wiley, Royal Anthropological Institute of Great Britain and Ireland]: 252–71. doi:10.2307/2800248.
Skull-Rack. Photograph. The British Museum. http://www.britishmuseum.org/research/collection online/collection object details.aspx? objectId=504805&partId=1.
Strathern, Marilyn. 1997. "Prefigured features: A view from the New Guinea highlands." Australian Journal of Anthropology 8, no. 1: 89. Academic Search Complete, EBSCOhost.
"War Charm, Admiralty Islands, 1800s." Museum of New Zealand Te Papa Tongarewa. 1992. http://collections.tepapa.govt.nz/exhibitions/ritaangus/artworks.aspx?irn=280.
Warrior's Neck Ornament. Photograph. Photograph from the Met Museum. http://www.metmuseum.org/art/collection/search/314236.
Whitehead, Harriet. 1986. "The Varieties of Fertility Cultism in New Guinea: Part II". American Ethnologist 13 (2). [Wiley, American Anthropological Association]: 271–89. http://0- www.jstor.org.dewey2.library.denison.edu/stable/644132.