Papua New Guinea is one of the most geographically, ethnically, and linguistically diverse areas in the world. As such, hundreds of ethnic groups, who speak more than 850 languages, interact and use the environment in many ways. The Sepik River, one of Papua New Guinea's most important geological features, is home to some of the island's most significant and well-known ethnic groups, two of which are the Iatmul and the Sawos. Throughout Melanesia, trade and social interaction are extremely important themes. Interactions among ethnic groups happen on a regular basis. These two masks, both referred to as "Mai", exemplify many similarities although they are associated with distinctive ethnic groups. These similarities indicate the interaction and trade that occurs among ethnic groups living near the Sepik River and its tributaries. According to Forge, "a whole series of stylistic features are common to all the groups, but some of these features are developed and exploited in one area" (Forge 1973). This style being exploited is that of the Iatmul peoples (Bateson 1932). I chose these two masks because I think they are both gorgeous in their own ways, and because they show slight modifications on the same general mask form.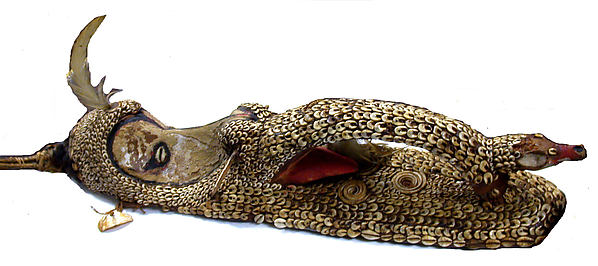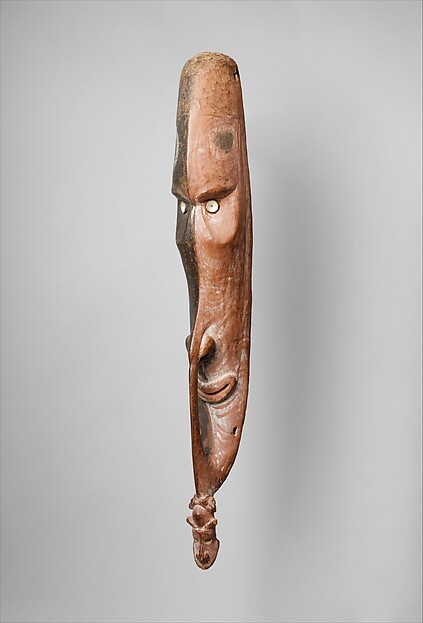 These masks demonstrate typical Melanesian characteristics because they show the use of many materials including wood, paint, and fish vertebrae in one mask and wood, clay, nassa shells, pig tusks, cowrie shells, conus shells, feathers, paint in the other mask. Although the Iatmul mask was collected in the late 19th- early 20th century, it is consistent with other Iatmul masks. This particular mask is long and narrow, which is noted by many as the typical Iatmul style (Dinerman 1981). Its hollow eyes are also typical of this style. Additionally, another very "Iatmul" trait of this mask is the fact that its nose and chin are connected. This is due to a legend stating that the two were connected many generations ago (Minneapolis Institute of Arts n.d). Iatmul Mai masks are created in pairs, which portray elder and younger supernatural beings, like deceased brothers or sisters, and these masks are said to become inhabited by the spirits they are made for and for whom they are named (Silverman 2001). This is a way for spirits and ancestors to remain an active part of the community, as can be seen throughout many other parts of Melanesia. One of the most important formal aspects of the mask is the totemic reference on the bottom of the chin. In many Sepik River cultures, totems are important symbols of protection and family history. Here, with the use of the totem, we see both human spirits and nature spirits being melded into one piece of art. These totems have been in individual families for hundreds of generations, and are held with utmost importance is Sepik communities, especially the Iatmul (W. Forge 1965). These masks were used during Iatmul celebrations, and were worn by men and boys involved in age grade societies. This specific mask was used to replicate an oral tradition in which the men and boys wearing the masks burst through mountains where the masks were said to have originated (Met Museum 2007). We can see that this mask was used in a public manner, unlike the art found in Polynesia that was valued mostly privately.
The mask created by the Sawos people shows many similarities and yet many differences with that of the Iatmul. This emphasizes the connections among the ethnic groups living in the Sepik River region and suggests that they influenced each other and traded with each other. An example of the similarities between these two masks is the totemic reference and the connected chin and nose. Cristian Kocher Schmid postulates that these features were communicated during interactions between the ethnic groups. The relationship has been described as one that "…constitutes two facets of the same culture; the Sawos villages are safe and hidden amongst the swamps on the safe inside while Iatmul villages perch on the exposed river banks on the dangerous outside. Sawos and Iatmul not only trustingly share their food with each other but also crucial raw materials, artefacts, and ceremonies" (Kocher Schmid 2005) This mask, unlike the Iatmul mask, uses many materials (eight), and uses the technique of over-modeling which is found across Melanesia as well. This mask was used in the same general way as the Iatmul mask was, and according to many scholars, the ceremonies and uses of the Mai masks were very similar throughout the Sepik region (Lutkehaus and Roscoe 1987). There are even notes of a trade relationship between the Iatmul and Sawos, which says that Sawos men "seemed to have been soliciting their Iatmul trading partners with material goods and services in return for ritual techniques and knowledge and for the 'power' these represented" (Harrison 1990). We can see again that the Iatmul have a wide range of influence in this region, due to others both adapting their art style and cultural influences. References like this have been around since the area was first explored, showing that this is not a new trend (Bateson 1932).
Many authors speak of shared stylistic features, like the totem, the connected nose and chin, and the emphasis on the environment, as being "Sepik" rather than specifically Iatmul or Sawos. However, many later went on to state that the group was so dominant in trade that their style became the style of the region (Moutu 2013). Their reach is clear, and through these two masks, we can see that they both have their own interpretations of the same style. Trade is a large theme throughout Melanesia and we see its influence on artworks in these two examples from the Sepik River region of Papua New Guinea.
Bibliography
Bateson, Gregory. "Social Structure Of The Iatmül People Of The Sepik River." Oceania 2, no. 3 (1932): 245-91.
Dinerman, Ina. "Iatmul Art as Iconography (New Guinea)." Anthropos 5, no. 76 (1981): 807-24. Forge, Arthur. Style and Meaning in Sepik Art. Oxford: Oxford University Press, 1973.
Forge, J. A. W. "Art and Environment in the Sepik." Proceedings of the Royal Anthropological Institute of Great Britain and Ireland, no. 1965 (1965): 23-31.
Harrison, Simon. Stealing People's Names: History and Politics in a Sepik River Cosmology. Cambridge: Cambridge University Press, 1990.
Iatmul Peoples. "Mai Mask." Digital image. The Met Museum. http://www.metmuseum.org/art/collection/search/313668
Kjellgren, Eric. Oceania: Art of the Pacific Islands in the Metropolitan Museum of Art. New York and New Haven: The Metropolitan Museum of Art, 2007, 40, 79-81.
Kocher Schmid, Christin. "Inside–Outside. Sawos–Iatmul Relations Reconsidered." Journal De La Société Des Océanistes Jso, no. 120-121 (2005): 113-27.
Lutkehaus, Nancy, and Paul Roscoe. "Sepik Culture History: Variation, Innovation, and Synthesis." Current Anthropology 28, no. 4 (1987): 577-81.
Minneapolis Institute of Arts. "World Myths & Legends in Art." The Minneapolis Institute of Arts. n.d.
Moutu, Andrew. "Naming and Necessity in Iatmul." Names Are Thicker than Blood Kinship and Ownership amongst the Iatmul, 2013, 171-91.
Schindlbeck, Markus. "The Importance of Relationships in Middle Sepik History." Reviews in Anthropology 12, no. 2 (1985): 166-72.
Sawos Peoples. "Mai Mask." Digital image. Http://www.metmuseum.org/art/collection/search/317698.
Silverman, Eric Kline. Masculinity, Motherhood, and Mockery: Psychoanalyzing Culture and the Iatmul Naven Rite in New Guinea. Ann Arbor: University of Michigan Press, 2001.