This summary compares two ceremonial objects from the Melanesian islands: a Funerary Carving (known as a Malagan) from New Ireland, and a Ritual Board (Wenena gerua) from the Siane people in Papua New Guinea. Melanesian cultures greatly valued ceremonies and rituals, and based their everyday actions upon cultural practices (Groves 1936, 220-245).Special resources, art objects, and ritual objects were needed for the more elaborate and culturally lavish ceremonies, however, every so often many different celebrations took place at a single time (Corbin 1998, 90). These art and ritual objects/carvings played a central role within Melanesian indigenous ceremonies, so their significance cannot be overlooked when studying Melanesian art. One key aspect of Melanesian art, though, is that art was meant to be given back to the earth – in other words, it was meant to be destroyed after use. I chose to feature these art objects because their multi-purpose use, and eventual disposal, differ from many of the world's art cultures- even from their Polynesian neighbors. These objects show the important role that the spirit world played in everyday Melanesian life and how connected to the environment the indigenous Melanesia population was.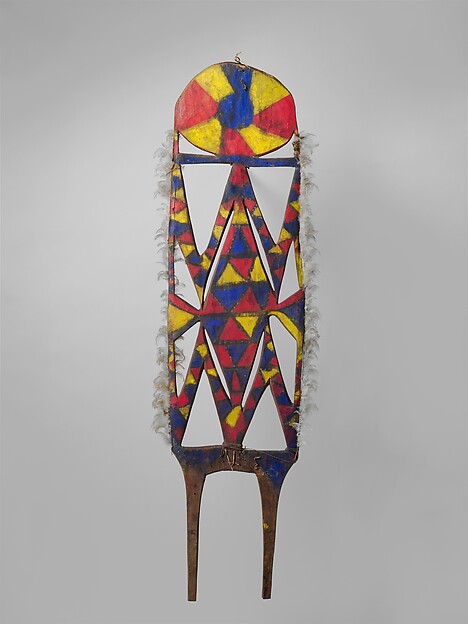 This Malagan carving, referred to above simply as a funerary carving, was an object used to honor deceased members of the community (Corbin 1998, 90). The resources required and the intricacies carved into the figure took quite a bit of time to gather and enact, so often these funeral ceremonies took place years after the individual's death (Lincoln 1989, 197-225). In accordance with New Ireland's culture, many different materials were used to create these elaborate figures, such as inlaid cowry shells for ornamentation. In order to complete the deceased community member's life cycle, figures like these were left in nature to be destroyed, thus sending the deceased back to the ground (Albert 1986, 239-252). Malagans were often carved from wood native to the land, inlaid with ornaments (like shells), and finally painted to resemble an important figure to the community. Interestingly, anybody but the men who were actually carving the Malagan were forbidden to view it until the unveiling at the ceremony (Rosenfield 1991, 42). Its unveiling was part of the funeral itself, and the community members were meant to see it as the 'second-coming' of the deceased, and would be able to say their final goodbyes. While the funeral was the main point of ceremonies and celebrations, they happened so seldom that it was not uncommon for multiple events to be combined into one large ceremony (Grove 1936, 220-245). Often multiple funerals would be combined into one celebration, or a gathering of neighboring communities would be included.
The ritual board was used by the Siane people of Papua New Guinea to feed the ancestors of their community. In Melanesian life, when a person died they did not leave the community, but rather moved onto the next stage of life (R.P. 1937, 178-79). Because the ancestors were not in the physical world, they did not have access to food, so the living members of society ceremoniously placed food on this board and made offerings to the ancestors (Telban 1997, 308-325). The markings and shapes painted onto the boards also indicated what they were asking the ancestors for, in this case it was fertility of the land and of the people (Emigh 1981, 5-25). Before European colonization, these boards were made from native trees and painted with hair and pigment. With the late manufacturing date on this particular object, though, it is most likely that the Siane people adapted to utilizing paint and objects brought over from the West, so these objects gradually became more and more 'modern' in the eyes of Western cultures. Following Melanesian practices, this board was also made to be destroyed and was disposed of after its use (Dissayanake 1989, 693).
This comparison shows that art objects often held meaning in ceremonies and rituals throughout Melanesia. Both of these objects held major roles in cultural ceremonies, and their use shows how important honoring the dead and ancestors were (Jorgenson and Johnson  1982, 470-75). The value of these objects was within the ceremonies themselves, so their disposal after the ceremonies concludes the celebrations and rituals.
Bibliography
Albert, Steven M. "'Completely By Accident I Discovered Its Meaning': The Iconography of New Ireland Malagan." The Journal of the Polynesian Society 95.2 (1986): 239-52.
Corbin, George A. "Assemblage of Spirits: Idea and Image in New Ireland." African Arts 22.1 (1988): 90-1.
Dissayanake, Ellen. "No Title." Man 24.4 (1989): 693. Emigh, John. "Masking and Playing: Observations on Masked Performance in New Guinea." The World of Music 23.3 (1981): 5-25.
Funerary Carving (Malagan). The Metropolitan Museum of Art. N.d. New York City, New York. http://www.metmuseum.org/art/collection/search/319853
Groves, William C. "Secret Beliefs and Practices in New Ireland." Oceania 7.2 (1936): 220-45.
Jorgensen, Dan, and Ragnar Johnson. "Order Or Disorder in Melanesia Religions?" Man 16.3 (1981): 470-5.
Lincoln, Bruce. "Mortuary Ritual and Prestige Economy: The Malagan for Bukbuk." Cultural Critique.12 (1989): 197-225.
P., R. "No Title." The Geographical Journal 90.2 (1937): 178-9.
Ritual Board (wenena gerua).The Metropolitan Museum of Art. N.D. New York City, New York. http://www.metmuseum.org/art/collection/search/311183
Rosenfeld, Andre. "No Title." Pacific Arts.4 (1991): 42-3. Telban, Borut. "Being and 'Non-being' in Ambonwari (Papua New Guinea) Ritual." Oceania 67.4 (1997): 308-25.